The Wheelbarrow Bookmark
Albert loves to work in the garden. Spring is on its way so it is time to get ready for planting. Albert knows what to do and how to do it becuase he reads. Use him to mark your place as you read.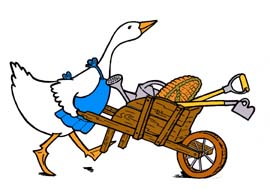 From the title page of Albert's Thanksgiving
Click here to print out the Color PDF Bookmark file.
---
HOME PAGE | BOOKS PAGE | GALLERY | KIDS PAGE | TEACHERS/LIBRARIANS