That's Right, the Answer is Bowling!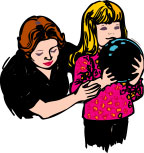 The ball is rolled toward the 10 pins which are set in a triangle formation. The ball has to hit the pins at a certain angle so they will then knock each other all down. This is the object of the game.
At one time only nine pins were used and the game was called "Nine Pins". The game has also changed in another way. Long ago the pins were reset by a person after they were all knocked down. Today a machine does the work.

The reason you will count by tens when you keep score is that a strike is worth 10 points PLUS the number of pins you knock down with the next two balls. If you make three strikes in a row, you will have earned 30 points for that frame.
---
HOME PAGE | BOOKS PAGE | GALLERY | KIDS PAGE | TEACHERS/LIBRARIANS