The Making of

Albert's Ballgame

Newly released in Paperback
Compare and Contrast When I gather information for a book I want first-hand experience and I take tons of pictures. My camera and I were a constant presence at the Old Field during our Carmel Valley Little League season. You see below some of the photos I shot and the way the information is used when doing the illustration. I also built my own 3-dimensional field. This book takes place in a controlled environment. I needed to be able to look through the fence, draw the catcher, batter, etc. and also keep the details on the wall in the background consistent throughout the book. Details!


| | |
| --- | --- |
| | Above, the Carmel Valley advertising wall at The Old Field. At left, the model of my Old Field. Most of the businesses that appear on the wall in Albert's Ballgame appear in other Albert books. |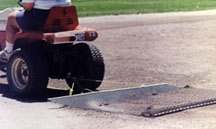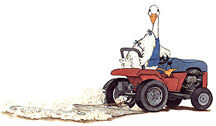 Smoothing out the playing field before the game.


Model for drawing positions.
Good sports end the game with "good game" and a high five.




Designing equipment that looks real but fits animal shapes and features is always a challenge.

Patrick Lyon models the catchers equipment worn by the mouse.




This is me of course, the dancer monkey with the camera. Click!


E-mail directly to Leslie. Please state if you are a librarian or teacher and share any information that would be helpful to make this page meet your needs.
HOME PAGE | BOOKS PAGE | GALLERY | KIDS PAGE | TEACHERS/LIBRARIANS