Quotes and Notes about Baseball
QUOTES
"Baseball is not simply an essential of this country, it is a living memory of what the American culture at its best works to be. Baseball is about going home and how hard it is to get there and how driven is our need. It tells us how good home is. Its wisdom says you can go home again, but that you cannot stay. The journey must always start once more . . until there is an end to all journeying."
– A. Bartlett Giamatti
---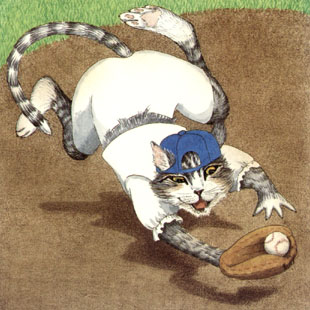 "There are some fielders who make the impossible catch look ordinary and some the ordinary catch look impossible."

– Joe McCarthy

Georgie may have to twist herself into a pretzel or a corkscrew but there isn't a ball she can't catch!

Drawing from the Book Albert's Ballgame
---
| | |
| --- | --- |
| K | strike out |
| E | error |
| SF | sacrifice fly |
| BK | balk |
| SB | stolen base |
| HR | home run |
NOTES
Some fans like to keep their own score sheet during a baseball game. Here in Pleasant Valley we have our own form for keeping score. You can see it if you look closely at the illustrations in Albert's Ballgame. Even though fans like to make up their own marks from time to time, some are standard.
---
Definition of a Rookie: rookie, n. 1. an athlete playing his first season on a professional sports team. 2. Any raw recruit, as on a police force.
– The Random House College Dictionary
HOME PAGE | BOOKS PAGE | GALLERY | KIDS PAGE | TEACHERS/LIBRARIANS