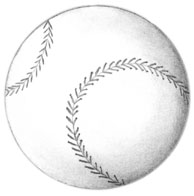 The Baseball, Mitt and Glove
A Baseball has 216 Stitches
It all begins in the middle of the ball with a blend of cork and rubber. The core is covered with black rubber and red rubber. This hard rubber core is then wound with yarn; 121 yards of gray wool, 45 yards of white wool and 53 yards of fine white cotton. Next it's coated with rubber cement and then the cover (two pieces of horsehide) is hand-stitched in place with 108 double stitches of red thread.
---
Catcher's mitt

Fielder's glove
Helping Hands
The catcher's mitt, the fielding glove,
And the gloves batters wear when they bat
Protect players' hands but also serve
To catch and stop balls, wherever they're at. – L.T.
---
HOME PAGE | BOOKS PAGE | GALLERY | KIDS PAGE | TEACHERS/LIBRARIANS