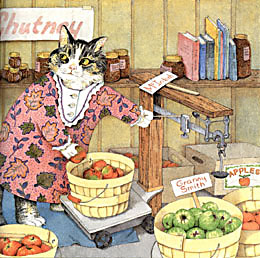 GRACIE'S
APPLE
SQUASH
SOUP
INGREDIENTS
3 Tbs. vegetable oil
1 large onion diced
1 cup carrots, peeled and chopped
3-4 tart green apples peeled, cored and chopped (Granny Smith or Pippin are good varieties to use)
4 cups chopped squash such as butternut or pumpkin with no seeds or skin
4 cups chicken or vegetable stock
1 cup apple juice
1 Tbs. grated fresh ginger root or chopped candied ginger

METHOD: In a large pot, like a dutch oven, heat the oil and sauté the onion, carrots, apples and squash until soft but not browned. Then add the stock, apple juice and ginger. Cook on a low simmer until tender. Put in a food processor or blender to puree, or you can use a potato masher or a ricer.