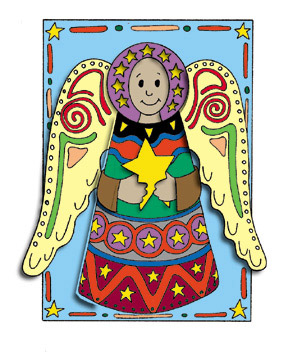 Christmas Doodle Angel.
If you like to doodle, then this is the angel for you.

This design is based on a series of angels, designed by Erica Franke, in 1956 for the city of Monterey, CA. to brighten up the downtown area at holiday time.

The designs were inspired by early California Spanish motifs and most likely painted by local Indian artisans.


Here's your chance to decorate your own unique angel.



This project can easily be handled as either a 2 or 3-dimensional project.

To begin:
1. Cut a piece of tagboard, 9 1/2" x 13"

2. "Doodle" a border around the edges of the tagboard. This is your background frame.
3. "Doodle" designs on wings, body and head then color with crayon, colored pencil or markers.
4. After all pieces have been colored, cut them out.
Now you're ready to assemble your angel. "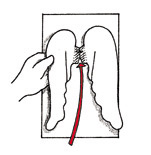 1. Cut wings apart and cut out notches. Glue wing tabs (inside fold lines) to the tagboard frame. Wingtips will overlap edges of tagboard. Fold wings forward at fold lines to help them stand out from the background.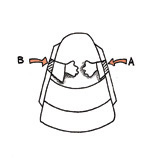 2. Glue tab ends of arm A to body flap A. Glue tab ends of arm B to body flap B.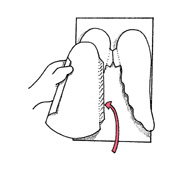 3. Fold body flaps A and B to back (toward the blank side). Glue body flap B along guideline B on wing.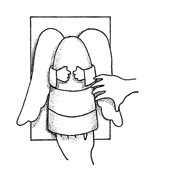 4. Put glue on body flap A, roll around one hand to create a 3-dimensional effect, and press flap into place with your other hand along guideline A.


5. Put a little glue at the bottom edge of head and press into place. Put a little glue on the back of each hand and press star into place. Star and hands will stand out from the body.

The following are downloadable Adobe PDF files for printing.

HOME PAGE | BOOKS PAGE | GALLERY | KIDS PAGE | TEACHERS/LIBRARIANS